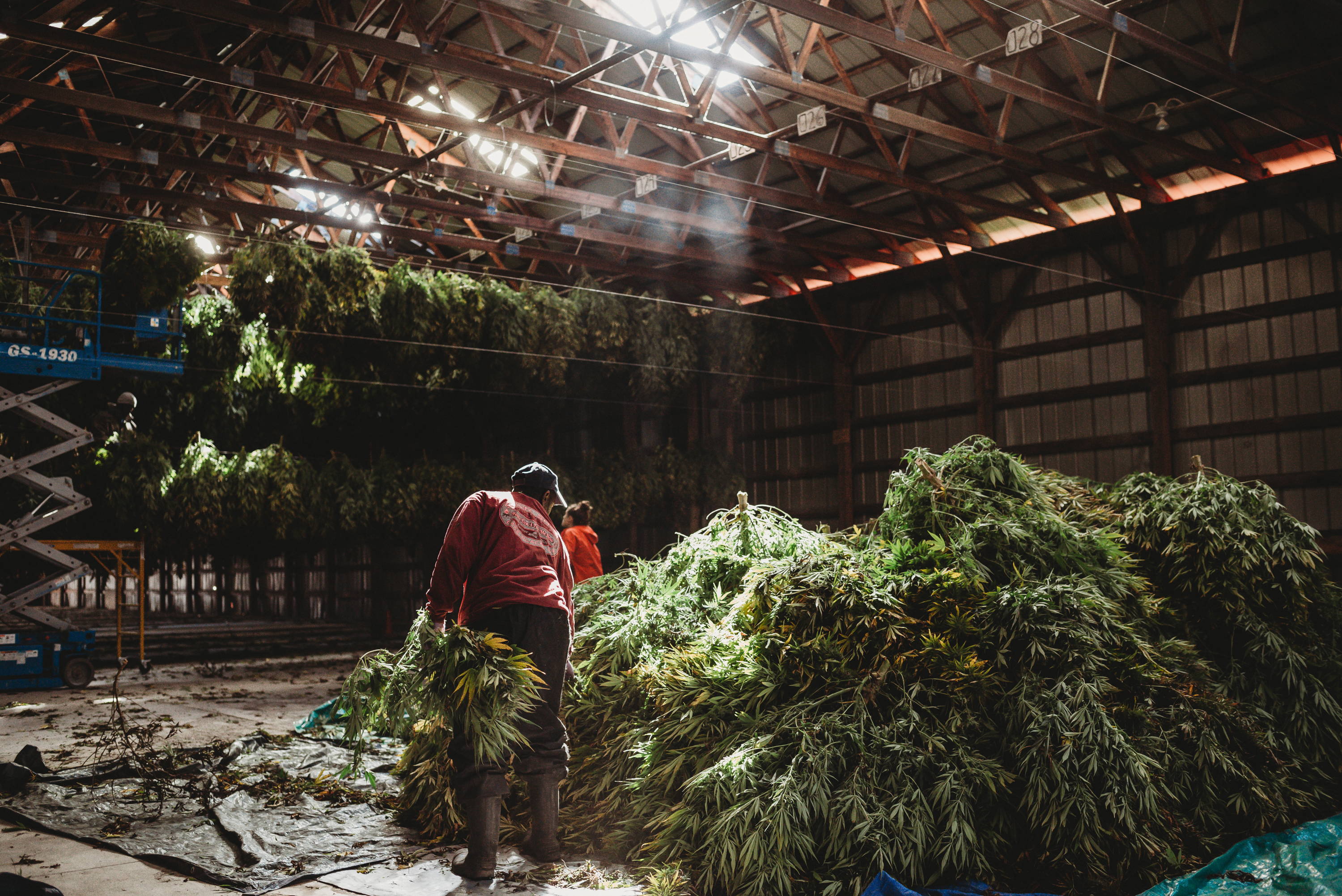 Finding High Quality CBD in a Saturated Market

When it comes to the rapidly expanding world of CBD, it's important to remember not all products are created equal. 
While there have been numerous scientific studies exploring the safety and relatively low side effects of CBD, it's still unregulated by the FDA.
This means that for every high quality, safe product on the shelf, there could also be ineffective products and snake oil.
2 Easy Ways to See if a CBD Company is Reputable
Look for Transparency

on their website. Can you find out who runs the company? Where their hemp is grown and how it's processed?

What's their company story?

If you're having a hard time finding out their reasons for creating and selling CBD, they might not be in business for the health and healing of their customers, and they may only be in it for the profits of the

Green Rush

.

At Head & Heal, we're committed to total transparency from seed to bottle.
Search for Third Party Lab Results.

A CBD company may make plenty of claims about their products, but if they aren't sharing

third party lab results,

how can you really be sure what's inside? A clean lab report should be free of pesticides, heavy metals, and other contaminants, while also showing the same amount of CBD as advertised on the packaging. If you're not sure how to read a lab report, we've created an

instructional video and guide for you here.

We share our third party lab results for every product we sell.
---
What is Full Spectrum CBD?
Full spectrum CBD is a method of extracting CBD from the hemp plant to create CBD products, like oils, tinctures, edibles, gummies, lotions, and balms. 
While a CBD isolate separates the CBD compounds from the rest of the hemp plant, a full spectrum process extracts other beneficial cannabinoids, like CBN, CBG, and trace amounts of THC (no more than 0.3% per the 2018 Farm Bill).
Research suggests that CBD is most effective when it works together with other compounds, in a phenomenon known as the entourage effect.
If you're looking for a high quality product that won't give you a heady "high," full spectrum CBD may be the most potent choice.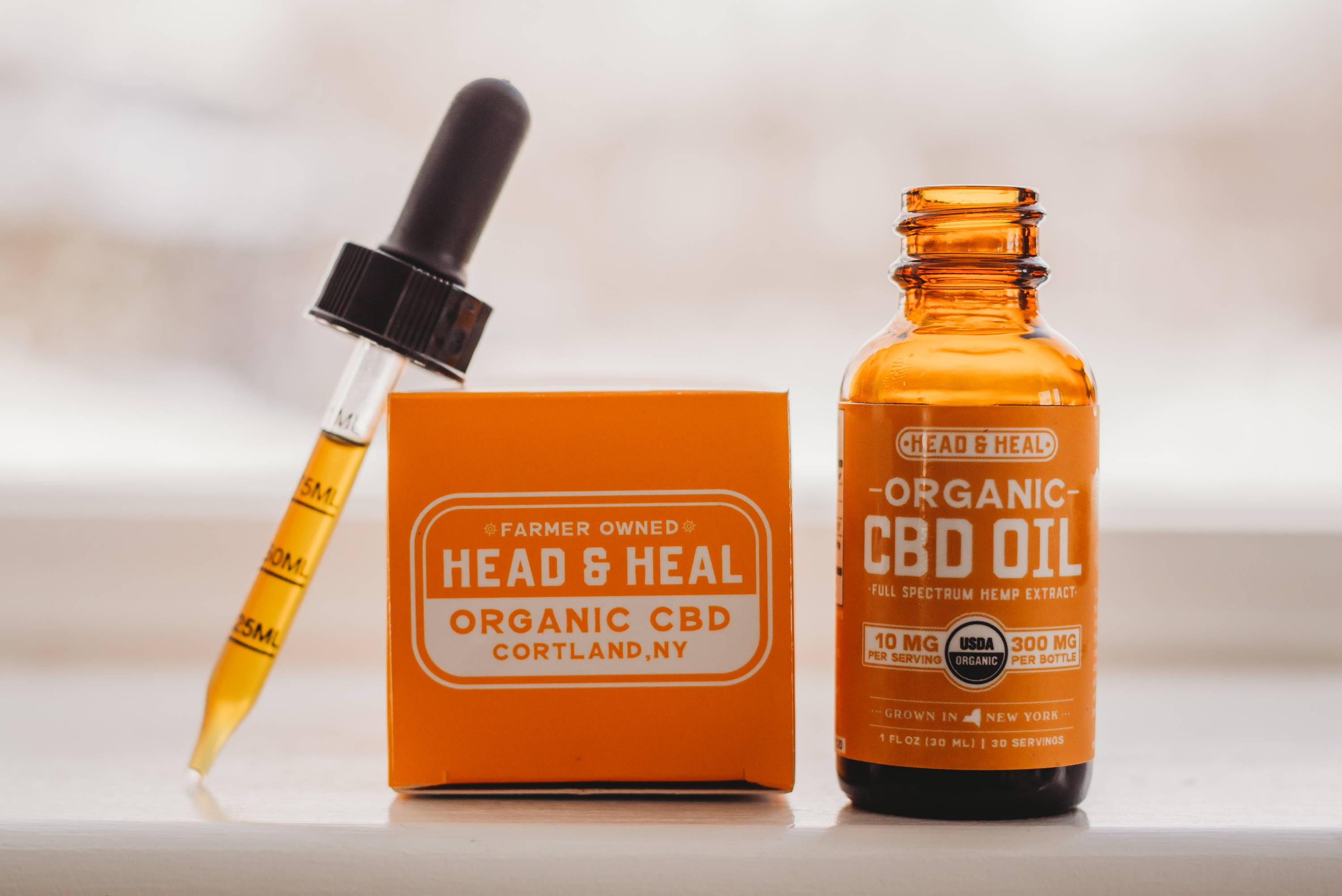 What Makes Head & Heal's CBD Different?
How We Make High Quality CBD Oil

In an unregulated market, there can be high quality and low quality full spectrum CBD. As a consumer, it can be helpful to grasp the basics of CBD science so you can recognize misleading marketing when you see it.
For example, one of Head & Heal's leading competitors writes "Entourage Effect" all over their packaging. The entourage effect is the phenomenon where multiple cannabinoids interact with each other, strengthening the overall therapeutic effects.
The catch? Our competitor's product is an isolate. If you look at their test results, you'll see their product only contains CBD and no other beneficial compounds. How can there be an entourage effect between multiple cannabinoids, if your product only has CBD?
You can figure out the quality of a full spectrum oil by looking at the amount of minor cannabinoids as well as terpenes. Many of the leading companies don't even test for terpenes or share this information with their customers.
For both minor cannabinoids and terpenes, you're looking at the total percentage in the bottle. The higher the percentage, the higher quality the oil.
| | | |
| --- | --- | --- |
| | Head & Heal | Leading Competitor |
| | | |
| | | |
| Minor Cannabinoids per Bottle | | |
| | | |
Our full spectrum CBD begins with the hemp plants we grow on our Certified Organic farm in Cortland, New York.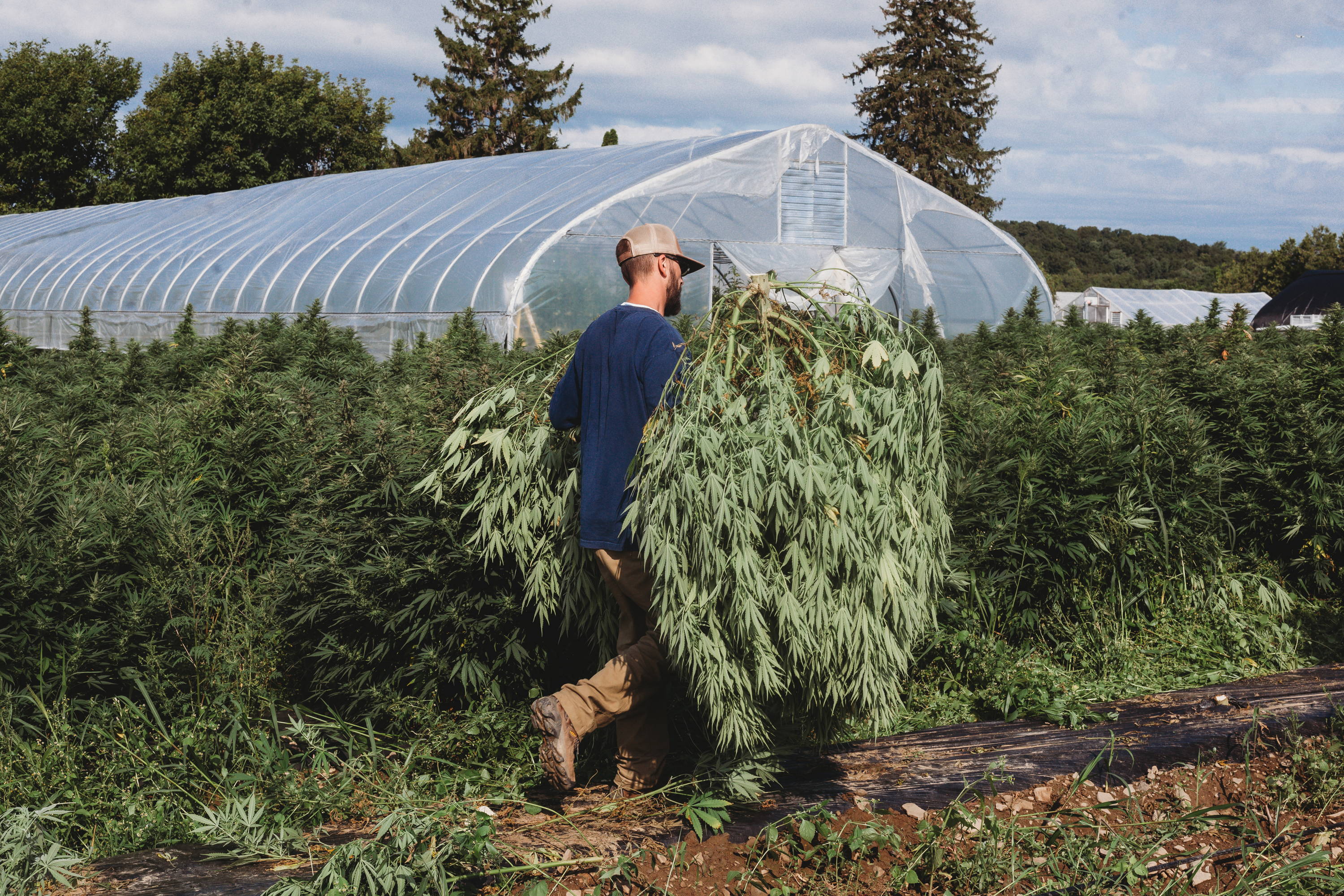 Using sustainable practices that are gentle on the earth, we grow hemp plants that are specifically bred to contain potent amounts of CBD and other beneficial cannabinoids, with no more than 0.3% THC.
Then, we hand harvest every single plant. Yes, you read that right. 
Many of our competitors use mechanical harvesting (aka tractors and other farming equipment), which ends up wasting plant matter that contains valuable cannabinoids and terpenes.
On our farm, we individually cut every single plant and hang them to dry, maintaining the integrity of the plant the whole way through. 
This may create extra work for our incredible crew of farmers, but the end result is absolutely worth it.
This hand-harvested, slow-cured process leads to CBD products that are rich in terpenes and other beneficial cannabinoids.
Check out how our full spectrum CBD compares to major competitors like Charlotte's Web, SunSoil, Garden of Life, and CV Sciences.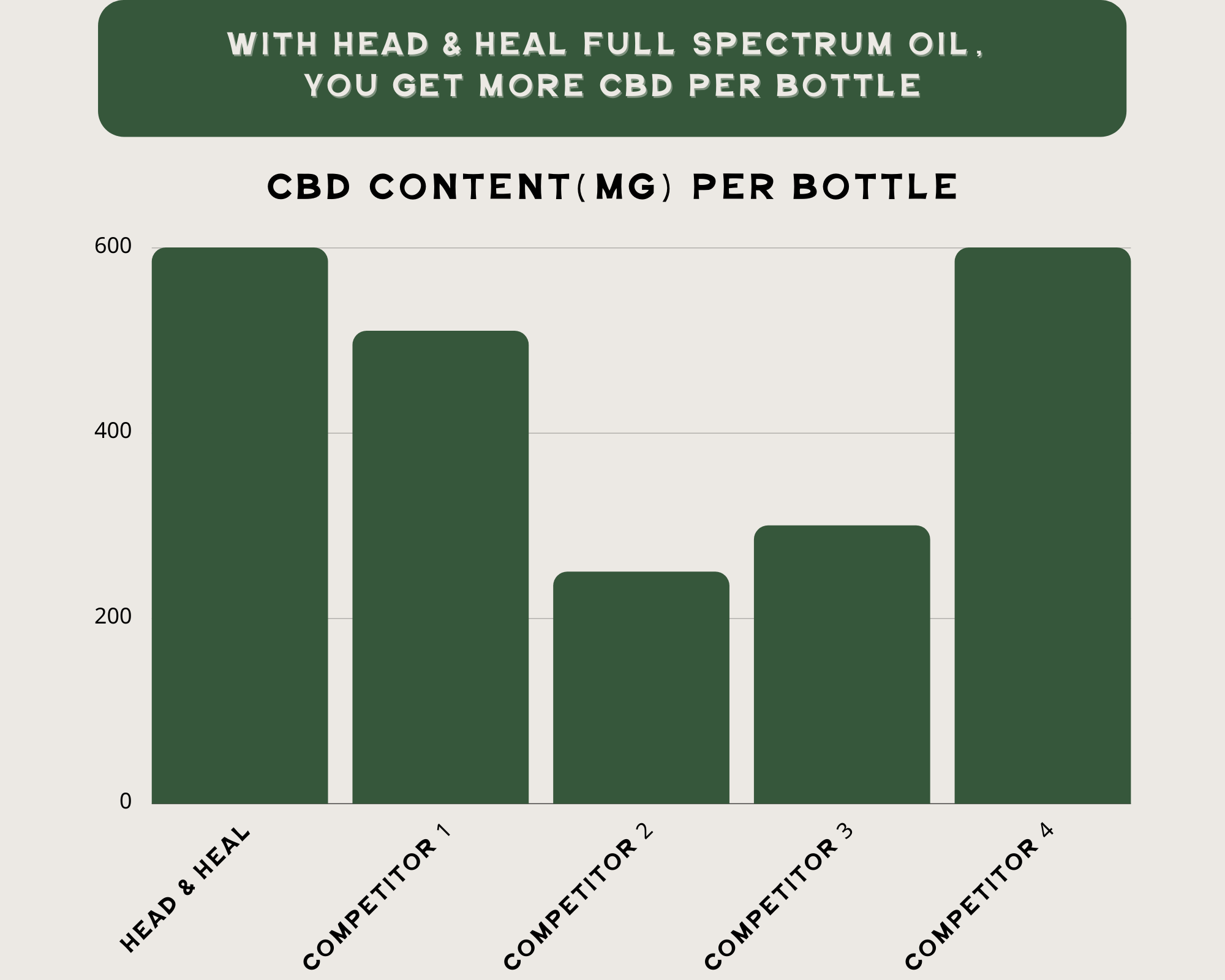 With our hand-harvested, slow-cured process, Head & Heal creates full spectrum CBD oil with more CBD content per dose and per bottle than many of our leading competitors.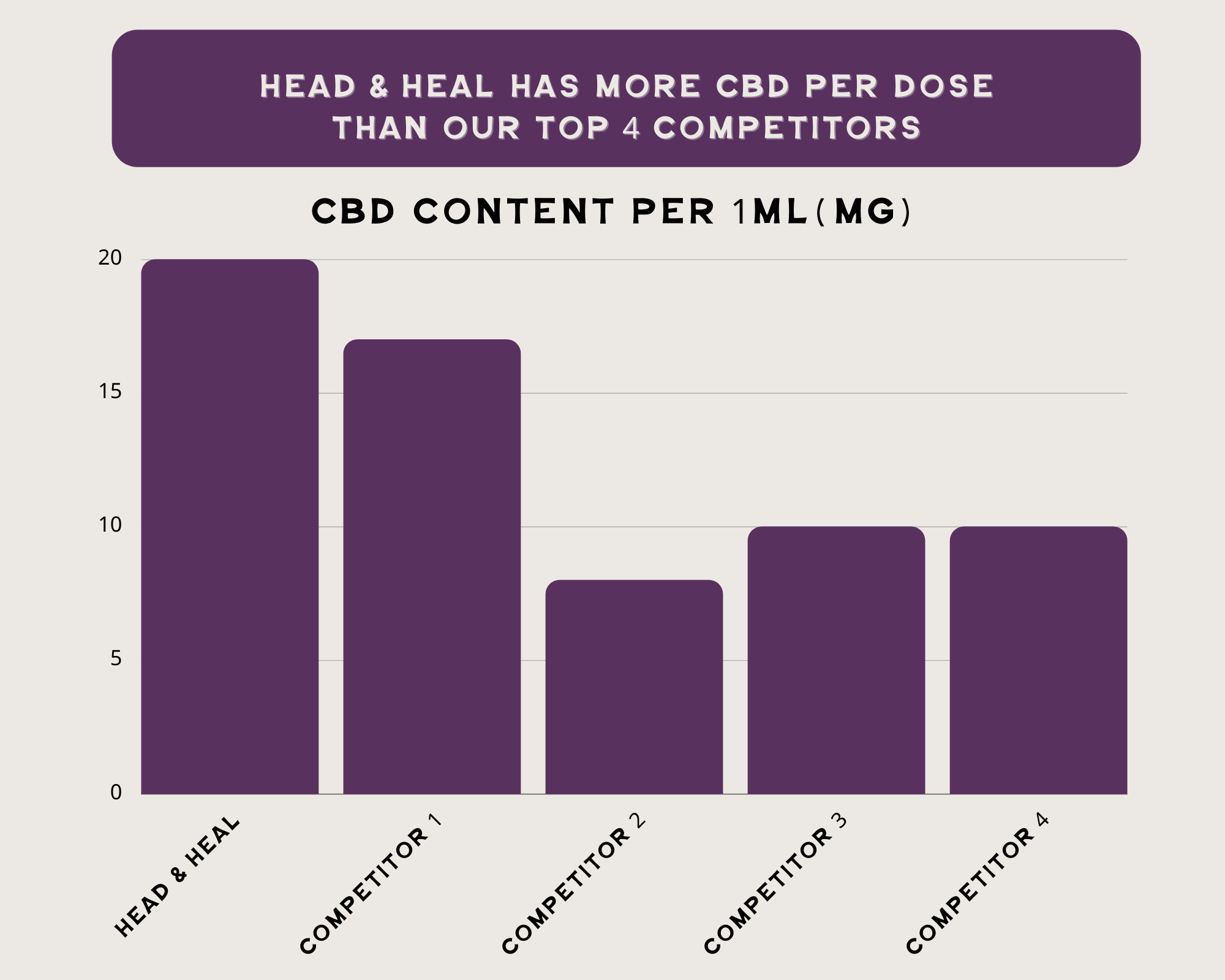 Most of the other major CBD brands that you'll see on the shelves of Wegmans or your local store aren't going to be USDA Organic certified or have lots of beneficial terpenes in their products. Head & Heal has both.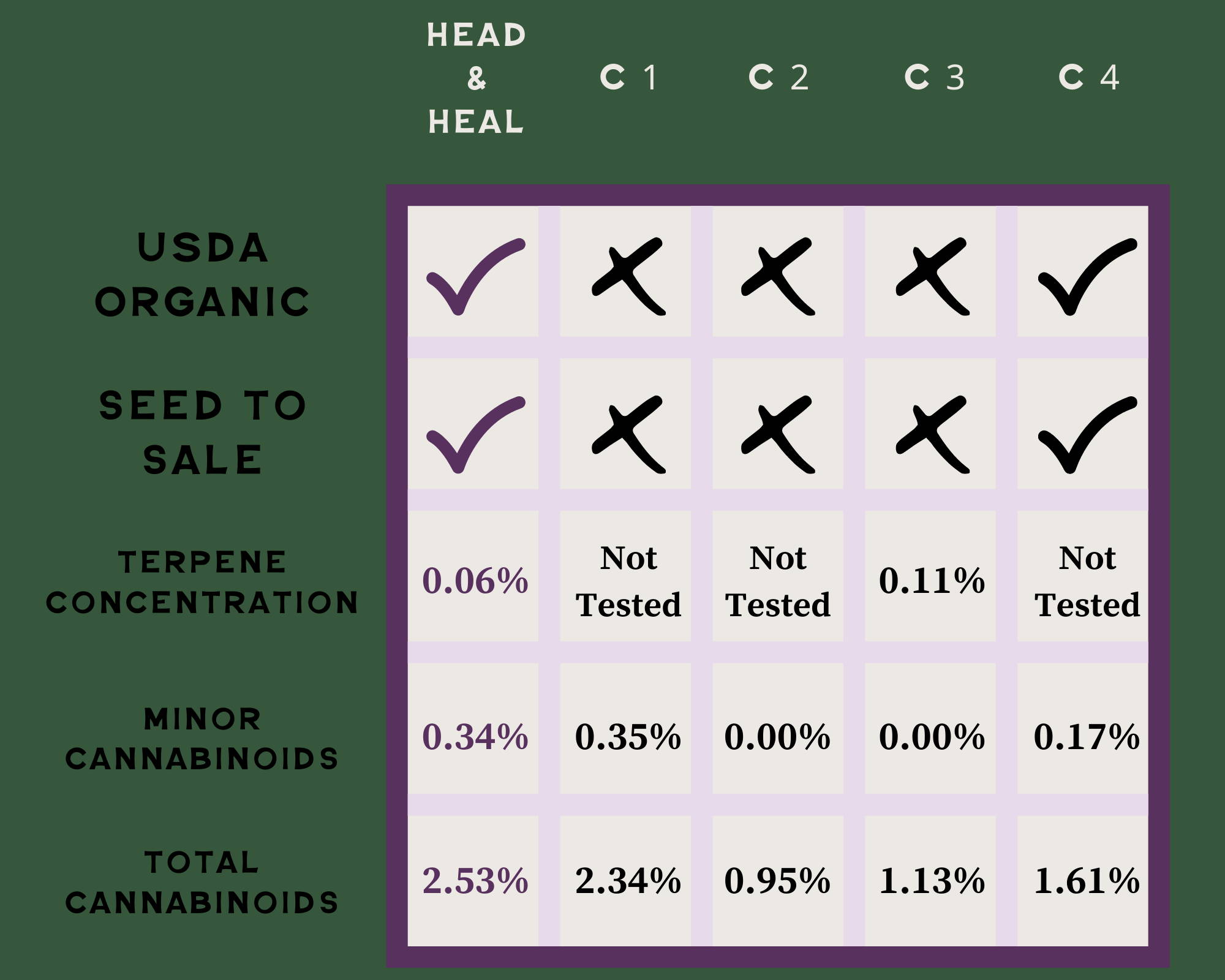 We founded Head & Heal because we experienced the benefits of CBD firsthand. Yet we knew that in order to make the best possible full spectrum product, we'd need to start at the source.
Every CBD product you buy from us begins as a seed on our farm.
We're committed to doing what's best for our employees, our customers, and our planet, as we turn those seeds into safe, effective, and affordable remedies and natural alternatives.
If you give our full spectrum CBD a try, let us know about your experience in our customer forum!